Ok, so I'm a *little* late sharing these but I feel it's necessary as this is tying in with a couple of posts that are coming your way.
I took part in the January Photo A Day Challenge started by
FatMumSlim
who is also doing more challenges. Take part! They're so much fun.
I did it because I thought, like most people, it would challenge me to take a photo a day. Turns out I don't need that challenge. While taking part I found out that I take waaaaaaay more than just one photo a day. More on that in upcoming posts ;)
For anyone who didn't take part here's the daily challenges: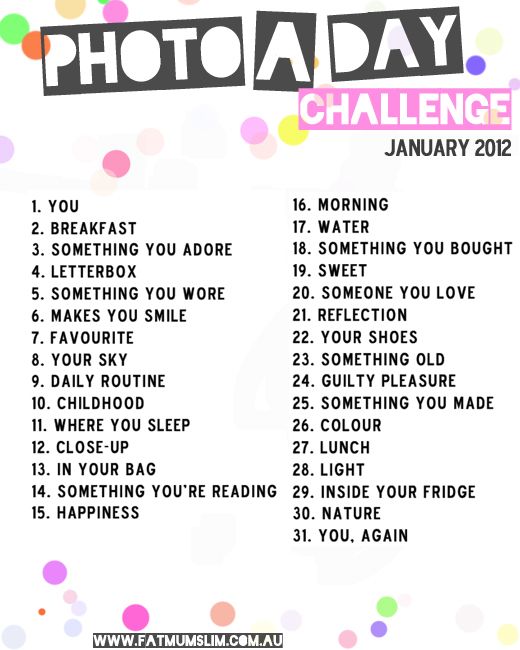 And here are my photos...
Photo 1: you. Blowing kisses to Jim, but as I'm playing catch up decided to use it for
Photo 2: Breakfast. Weetabix, banana, vanilla soya milk, orange juice and green tea. Could eat this all day everyday. Also love my morning view :)
Photo 3: Something you adore. Where I live. I adore seeing the snow covered mountains from my living room. It's where we go snowboarding :) I'm truly happy in this city.
Photo 4: letterbox. I tried to make mine a bit more interesting as our letterboxes are quite dull :p
Photo 5: Something you wore. My most favourite necklace, an uncagged swallow :)
Photo 6: something that makes you smile. The fact that he's over 4000 miles away and never fails to send me the sweetest messages every single day :)
Photo7: Favourite. My favourite pair of heels from Irregular Choice. I've moshed, sprinted and climbed fences in these shoes, they're that comfy! (plus they're pretty :p)
Photo 8: Your sky.
Photo 9: Daily Routine. My make up shelf, the biggest thing on it is my Alice in Wonderland eyeshadow case from Urban Decay. I love the names of the shades :)
Photo 10: Childhood. This face never failed to cheer me up as a child. Grover was my childhood teddy (though my niece is minding my original childhood Grover in Ireland).
Photo 11: Where you sleep. Comfy yet productive :p
Photo 12: Close-up. My favourite eye makeup, eyeliner flick and mascara. Bit clichéd for a close up, but I was lazy today :p
Photo 13: In your bag.
Photo 14: something you're reading. Zombie survival guide and fairy tales :)
Photo 15: happiness. Painting ceramics with friends. Mine is a zombie mug for Jim and it says 'if we were in a zombie apocalypse, I'd give you my shotgun x'
Photo 16: morning. The snow fall at 7am from my living room. Stepped out of my bedroom and went 'whaaaaat?!' :D
Photo 17: Water.
Photo 18: Something you bought. Drinks while visiting friends in Kilkenny.
Photo 19: Sweet. Jim helping my niece with the giant Christmas cracker my family saved for my visit :)
Photo 20: Someone you love. A year ago he was the first person I met in Vancouver. Now look at us :) x
Photo 21: reflection. Beluga whale
Photo 22: your shoes. Sometimes you just can't beat a pair of simple black ballet pumps :)
Photo 23: something old. My Jurassic Park triceratops I found while going through my keepsakes at my mum's house. I'm such a dino nerd!
Photo 24: guilty pleasure. Doing a lot of photography research lately and wedding photography has captured my attention the most. Even though I'm not a wedding person. At all. Definitely a guilty pleasure oogling wedding shots in work.
Photo 25: something you made. Found my first ever oil painting in my mum's house while visiting. Wish I could sit down and paint the same way I used to when I was younger.
Photo 26: colour. Playing Red Dead Redemption on the Xbox while Jim is being Mr. Teacher in college :)
Photo 27: Lunch. The Indian feast Jim's parents bought us. Nom.
Photo 28: Light. We're being lazy and waking up in the afternoon (I have the excuse of still being on Canadian time though)
Photo 29: In your fridge. Well, not my fridge. Jim's shelf taken over by me during my visit
Photo 30: nature. The two cutest parrots I have ever seen :)
Photo 31: You. Again. Uuuuurgh.... Why do teachers have 7am starts?
So those were my daily photos for January. I have a personal challenge coming up in a post in the next few days... it's the reason I didn't take part in the February challenge. So stay tuned!
My Intagram name is Aoife_Blake and for anyone who doesn't have a smart phone you can view my profile and photos (and other instagram members) on webstagram
here
(thought the site has been acting up in the past few days so if keep trying if it doesn't work)
.
If you have links to your photos for the challenges, share them! I love seeing peoples photos :D